Taekwondo for children and the whole family
A versatile form of exercise, taekwondo improves children's physical coordination and motor skills. In addition to technical skills, taekwondo training teaches the practitioners to respect other people and observe good manners.
At Mukwan, children's training classes are divided into two age groups. However, both groups train in the same place at the same time. The age groups are as follows:
MiniKids (5 to 8 years)

Juniors (9 to 14 years)
The age limits given are indicative rather than definitive. For training outside a child's own age group, please contact the instructors.
Please sign up to each class through the Nimenhuuto service!
We request the parents/guardians of our MiniKid and Junior students to sign the children up for each class through the Nimenhuuto service.
While Mukwan encourages everyone to try their hand in competitive taekwondo, we do not require the students to participate in sparring or forms competition.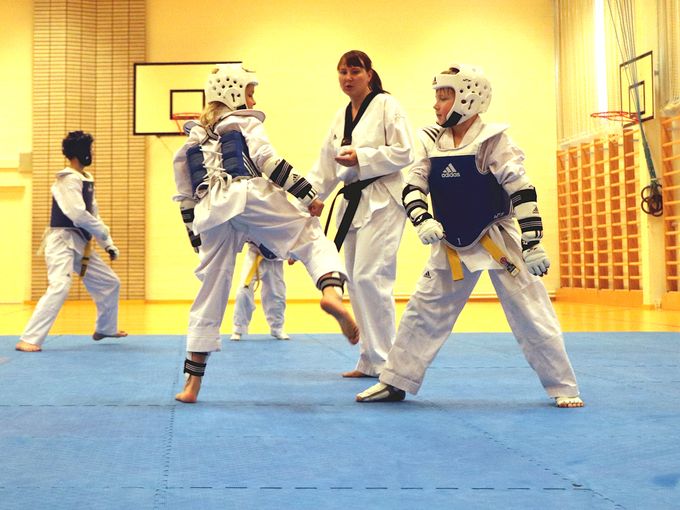 Family Taekwondo for children aged 1 year and older
In Family Taekwondo, children and adults can share a moment of exercise and explore taekwondo together through play – each to their own capacity. The class features playful circuit training and ballgames, as well as taekwondo technique drills.
Family Taekwondo is targeted for children aged 1 to 6 and their parents/guardians. Each child must be accompanied by at least one parent/guardian. Additionally, everyone should bring with them suitable indoor sportswear and a sealable bottle full of water or their favorite sports drink. As we train barefoot, no training shoes are required.
More information on Family Taekwondo: Jani Hakkarainen (tel. +358 40 545 7055, e-mail: jani.hakkarainen(at)mukwan.com)
Mukwan Jyväskylä – taekwondo for the whole family!