Mukwan Jyväskylä is a non-profit taekwondo club based in the city of Jyväskylä in central Finland. We aim to promote sports as a part of a healthy lifestyle for children and young people and encourage adults to keep on exercising.
At Mukwan, everyone can choose for themselves how to train taekwondo – as a fun hobby, a target-oriented exercise routine or a top competitive sport.
Mukwan's roots are in the mid-1980s, when taekwondo arrived in Jyväskylä. For over a decade, the club operated as a non-registered association. In 1997, it was finally registered as Park Tae Kwon Do Jyväskylä. Year 2003 saw the name changed to Mukwan Jyväskylä.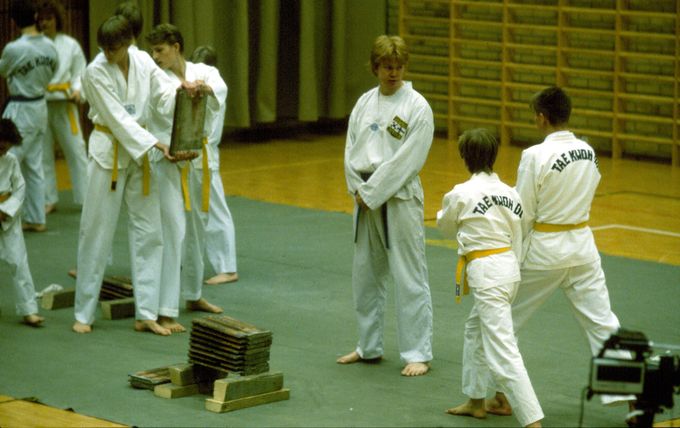 Since early 1991, Mukwan has trained under Master Jong Man Park (7th dan). After a lengthy residency in Finland in the 1990s, Master Park returned to Seoul, South Korea with his family. Currently working as the Head Coach of Team South Korea in sparring, Master Park led his team of five athletes to a total of five medal positions, including two gold medals, in the 2016 Olympics in Rio de Janeiro, Brazil.
The club's Executive Committee for 2018–2019 comprises the following members:
Maiju Lari, Chairperson
Kari Rannila, Vice-Chairperson
Matti Heikkinen, Secretary
Jani Hakkarainen, Member
Hannu Saarivaara, Deputy Member
Maria Nummela, Deputy Member
The Executive Committee members are available at training sessions, and you can also reach them by e-mail at firstname.lastname(at)mukwan.com.
In accordance with the association's rules, Mukwan holds two general assemblies every year. All members are encouraged to participate in the assemblies.
Mukwan Jyväskylä – sweat, smiles and challenges to suit everyone!